Details
DESCRIPTION
RadianWeapons:
Radian Weapons is a leading industry innovatorof ambidextrous weapon control components for the M4 platform. What sets Radianabove most other companies is their ability to merge revolutionary newfunctionalities to weapon systems with some of the best design aesthetics inthe industry without compromising either form or function. Radian is best knownfor their industry-leading Raptor ambidextrous M4 charging handle, theirpatented A-DAC (Ambidextrous Dual Action Catch) in their precision billet AX556lower receiver, and the revolutionary adjustable 45/90 degree modularambidextrous safety called the Talon. All these radically innovative componentsare also synthesized into their fully ambidextrous MI-T556 precision carbinethat's capable of sub-MOA accuracy performance and combat condition reliability.
Description:
ThePTS Radian Raptor™ Ambidextrous ChargingHandle is truly revolutionary in design & function. From rapid palm"blading" or finger thumb charges of the rifle, the motion is fluid& fast from either strong or support side. It features a positive latchfunction that allows easy engagement from either side of the Airsoft gun witheither hand. With a unique mechanism developed by Radian, it allows left handedshooters the ability to mirror the Airsoft gun manipulations done by those whoare right handed. The right side of the handle is slightly longer to clear theforward assist and the grip surface is serrated for positive grip control.
Features:
- BlackAnodized Finish
- Ambidextrous manipulation
- Longer right sided handle to clear forward assist
- Serrated surface
Specification:
- Color – Black
- Dimension – 180 x 65 x 13mm
- Weight – 75g (approx.)
- Material – 6000 series Aluminum
- Compatibility – KWA/ Tokyo Marui MWS
License: This airsoft replica is manufactured under authorized Radian Weapons license. Radian Weapons logo and related brand names are trademarks of Radian Weapons in the United States and/or other countries.
Disclaimer: This product is for airsoft, training, and simulation purposes only. Utilizing Airsoft products improperly, including in real firearm applications, are potentially dangerous and may cause serious injury. we will not accept any responsibility or liability for misuse of this product.
---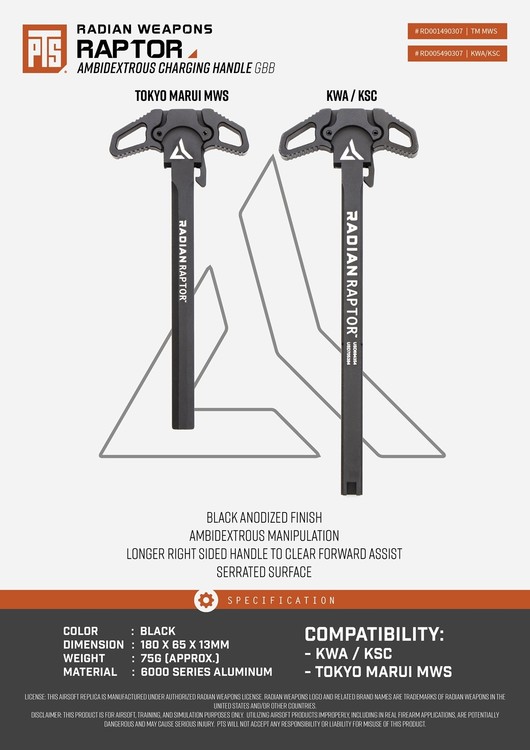 Additional Information
| | |
| --- | --- |
| Product Name | PTS Radian Raptor Ambidextrous Charging Handle GBB ( MWS / KWA ) |
| SKU / Code. | PTS-RD-CH |
| Manufacturer / Brand | PTS® |
| Major Color | Black |
| Major Built Material | 6000 Series Aluminum |
| Size | N/A |
| Disclaimer | Upgrading airsoft guns require necessary skill & technique, manual modification is necessary, consult expertise if needed. |