Details
Poseidon ICE Breaker Piston Head 13.5mm Golden for Marui GBB Pistol
The new revolutionary product - Ice Breaker Piston Head by Poseidon, designed to sharpen the performance, efficiency and operation of your Tokyo Marui Gas Blowback pistol. Item Requires professional installation by an Airsoft Gunsmith. Improves cold weather performance allowing less gas consumption and more shoots.
Golden 13.5mm for Marui / Guarder Airsoft GBB Pistol
- Marui G Model System.
Red 14mm for WE / KJW Airsoft GBB Pistol
- G Model System , Old Version System 1911 and Hicapa System.
Blue 15mm for Marui / WE / KJW Airsoft GBB Pistol
- New Version 1911 , Hicapa , XDM , PX4 , M&P System.
- Marui 1911 , Hicapa System Use Bule 15mm.
---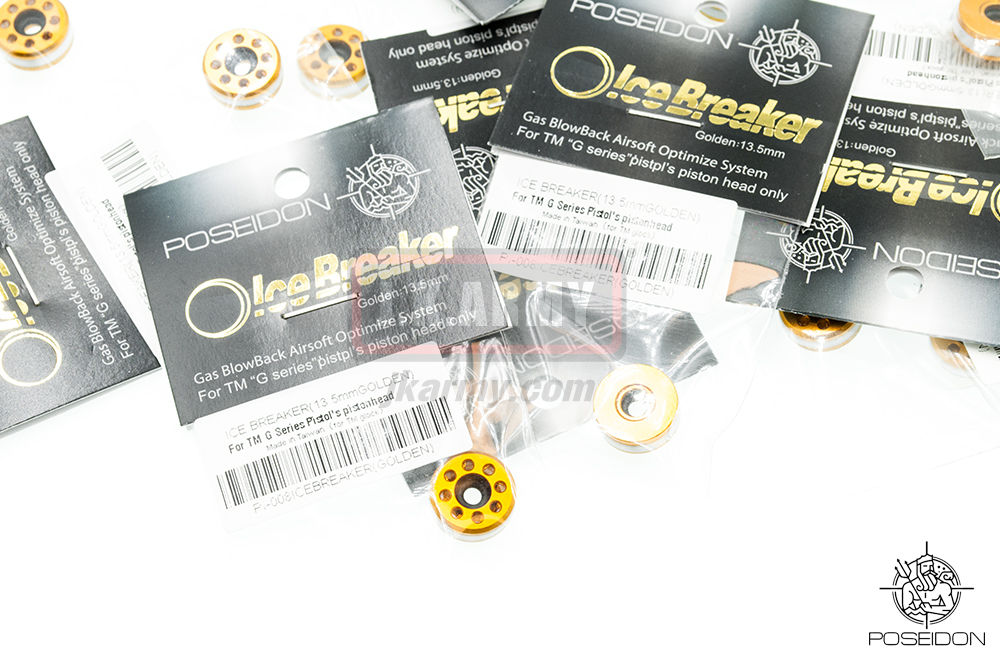 Additional Information
| | |
| --- | --- |
| Product Name | Poseidon ICE Breaker Piston Head 13.5mm Golden for Marui GBB Pistol |
| SKU / Code. | POS-PI-008 |
| Manufacturer / Brand | Poseidon Airsoft ( Taiwan ) |
| Major Color | Gold |
| Major Built Material | Teflon & Metal |
| Size | 13.5mm |
| Disclaimer | Upgrading airsoft guns require necessary skill & technique, manual modification is necessary, consult expertise if needed. |