Availability:
Out of stock
Only 0 left
QUANSHENG TG-K4AT Radio ( 5W ) ( Kenwood Pin Ver. )
USD$72.00
Earn 7 Reward Points
QUANSHENG TG-K4AT Radio Kenwood Pin Ver.
Kenwood Pin Ver.
Features:
01 Same frquency / different frequency
02 PC programmable
03 Initialization
04 Channel step 5k / 6.25k / 10k / 12.5k / 25k
05 CTCSS/DCS function
06 Voice prompt
07 Input frequency directly by keypads
08 Display channel + Frequency mode
09 Monitor and scan function
10 Switch power between "HI"and"LOW"
11 Auto battery saving function, extend the using time of battery.
12 Low power alarm, when the power is low,it sends the sound signal to alarm you change the battery .
13 Squelch level
14 Earphone / microphone / auto charger jack,convenient for answering and charging.
15 Scanning function: frequency and channel scan
16 Memory clear function

Battery Use: 1100mAh Ni-Mh or 1500mAh Li-ion battery

Packing include -
1x Radio
1x Antenna
1x AC adapter
1x 1100mAh Ni-Mh Battery
1x Rope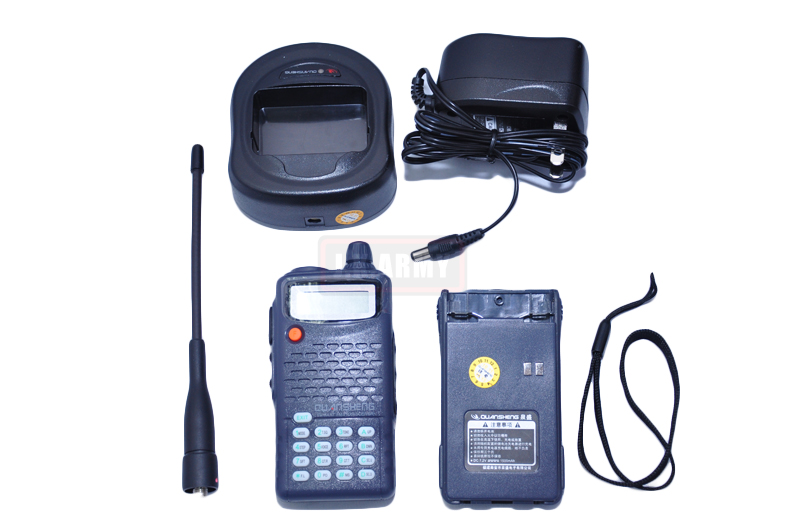 Manufacturer / Brand
QUANSHENG
We found other products you might like!