J.K.ARMY TEAM

No one is perfect, no one is capable of handling everything alone, and that's why a team is a thing. We're a team, we work together, laugh together, deal with problems together. You're never alone when you're in a team.

We are dedicated, enthusiastic, ambitious. We take pride in what we do, and we enjoy it. We strive to improve our services every day. Presently, we are one of the well-known airsoft milsim gear suppliers worldwide.

We offer a wide variety of products in different brands. From airsoft guns to replacement parts, combat gears to sports equipment.  

We came in contact with hundreds of customers from all around the world every day as we provide a worldwide shipping service.

Growing requires courage and it can be unleashed. Would you like to be tested with multi-tasking and working on the international platform while facing them with a positive attitude? Then you might have just found your place.

We're always on the hunt for people who are interested, doesn't matter if you're short on airsoft knowledge, if you're willing to learn, we're eager to teach. Sharpen your skills by adapting to a new aspect of an industry that you might not be familiar with. But I guarantee you that once you're hooked, you're in for it.
---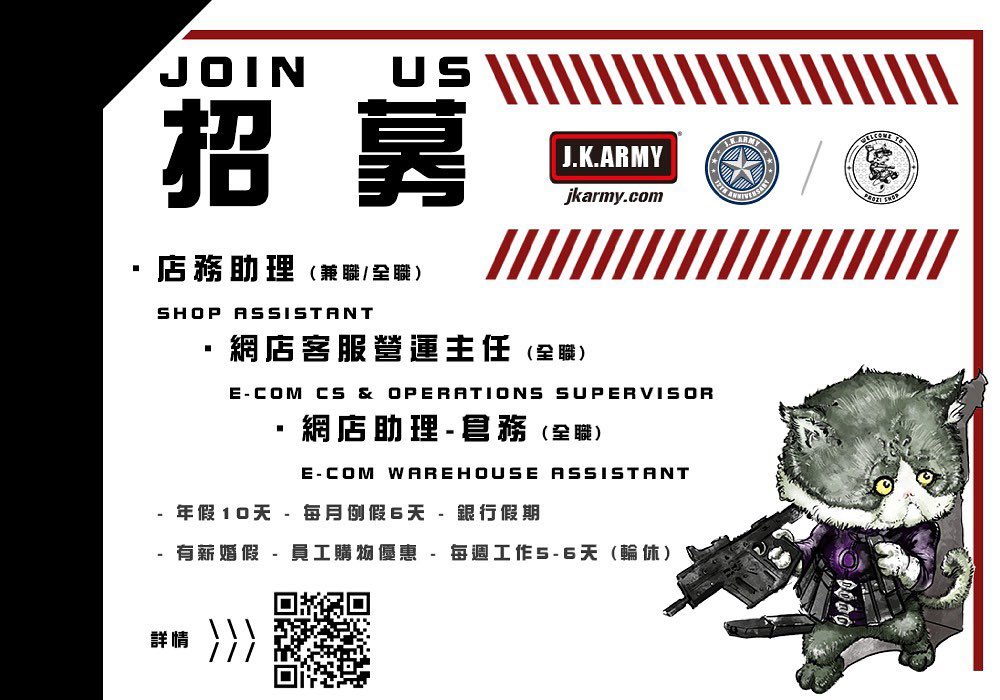 ---
E-Commerce CS Customer Service & Operations Supervisor
E-commerce CS & Operations Supervisor Communicating with customers, emails, replying messages on social platforms( Facebook, IG, Chatra), phone calls, answering and following orders and requests of customers; Online shop management, updates, on stocking items; printing orders and creating invoices; secretary, a few accounting works, including data inputs, filing, reprints, assisting the company's regular operation etc.
Post-secondary (Diploma/Certificate); 2 Year(s) Experience Required; mediocre Cantonese; Fluent English; Able to read & write Chinese; Able to read & write English in a proper manner; Microsoft Office; I/E Documentation; English Typing; Chinese Typing; Basic Computer Operation Knowledge; Interested in War-game Airsoft; experienced in eshop / experienced in designing or photography will be considered first.
- Annual leave: 10 days
- 6 days of holidays per month
- General holidays
- Weekly Shift: 5-6 days
- Time: 9:30AM-6:30PM
- Employment Type: Full Time
- Location: Mong Kok - Kowloon, Hong Kong
- Salary: Salary negotiable
- The trial period of three months.
If interested, please send your CV to us.
網店客服營運主任
- 職責:
- 電郵、社交平台及語音上的客戶服務回覆,解答、跟進等。
- 解決各種客戶服務問題、查詢、回饋及跟進訂單。(海外及本地)
- 網店客戶、訂單管理及產品上傳。
- 訂單出貨、入提單資料及開單。
- 資歷及經驗:
- 大專程度或以上,2年經驗
- 中英文閱讀寫,中英文打字,英文為主,WIN 操作,Microsoft Office。
- Customer Service 客戶服務 / Wargame Airsoft 玩具氣槍 / 攝影及應用 / Online Shop 經驗優先。
- 良好溝通技巧,處事細心有禮貌,良好應變技巧,能耐心處理客戶要求,勤力守時,有責任感及能獨立工作。
- 地點︰旺角
福利及工作時間︰
- 有薪年假10天
- 每月有薪例假6天
- 公眾假期
- 有薪婚假
- 員工購物優惠 & 生日獎賞
- 09:30-18:30
- 每週工作5-6天 (輪休)
- 待遇:面議
- 試用期三個月
如有興趣,請連同CV電郵給我們。

---
倉務助理 ( Warehouse Assistant )

- 職責︰
- 訂單包貨執貨、寄貨、檢核貨單、庫存管理、整理貨品、調貨、貨品上架及盤點。
- 資歷及經驗:
- 中五程度或以上,2年經驗。
- 普通中英文閱寫,中英文打字,英文介面為主,WIN 操作,懂Microsoft Office。
- 認識 Wargame Airsoft 玩具氣槍 或 網店平台優先。
- 處事細心具效率,良好應變技巧,勤力守時誠實禮貌,有責任感及能獨立工作。
- 地點︰旺角
福利及工作時間︰
- 有薪年假10天
- 每月有薪例假6天
- 公眾假期
- 有薪婚假
- 員工購物優惠 & 生日獎賞
- 09:30-18:30
- 每週工作5-6天 (輪休)
- 待遇:HK$16,000 - 17,000
- 試用期三個月
如有興趣,請連同CV電郵給我們。

---
全職 / 兼職 店務助理 Shop Assistant

- 職責︰
- 店務營運、銷售、推廣、訂單處理、倉存、理貨及盤點等等。
- 資歷及經驗:
- 中五程度或以上,2年經驗。
- 中英文閱讀寫,中英文打字,英文為主,WIN 操作,懂Microsoft Office。
- 認識 Wargame Airsoft 玩具氣槍 或 攝影及應用 興趣優先。
- 待人有禮,好客之道。處事細心具效率,有責任感,良好應變技巧,勤力守時誠實禮貌。
- 地點︰旺角
全職福利及工作時間︰
- 有薪年假10天
- 每月有薪例假6天
- 公眾假期
- 有薪婚假
- 員工購物優惠 & 生日獎賞
- 12:00-21:00
- 每週工作5-6天 (輪休)
- 待遇:$17,000起
- 試用期三個月
——————————————
兼職:HK$60-70/小時
時間:15:00-21:00 / 13:00-21:00,工作日:星期一至日(編更)。
可上班日子星期一,五,六,日優先。
如有興趣,請連同CV電郵給我們。