As low as
USD$253.85
The SSR4 combines everything you'll need from the very beginning of your airsoft journey until the advanced stages. It is the universal tool for whatever airsoft throws at you! Woodland or CQB, you can easily shine in all those situations thanks to durable, high-performance internals and modular externals.
SSR4 Features
Programmable Electronic Trigger Unit (includes burst, binary, pre-cocking, battery protection, etc.)
∼22 rounds per second with high-speed CNC gears (16:1) and an 11.1V battery (recommended).
2 Variants to fit your style: Realistic full-metal body & Lightweight reinforced polymer body (same internals).
25 Years spare part warranty.
Power output of 1.5 Joules
M-LOK Handguard and a top Picatinny rail for accessories.
Peak accuracy due to a 6.03 precision barrel with a rotary Hop-Up unit.
Modern Flat Trigger.
Quick Spring Exchange System for easy performance adjustments.
QD sling mounts for carrying.
Comfortable hold with a Modern beavertail Pistol Grip.
Advanced internal parts (more in Tech Breakdown).
Rigid T-Dean battery connectors.
Designed by passionate Airsofters in Vienna, Austria.
Vienna-based Tech support team.
Length: 29 x 9.4 inches Weight (Metal): 5.29 lbs Weight (Polymer): 5.07 lbs
We recommend using 0.28g BBs.
Warning: Do not store with pre-cocking engaged.
Note: The battery is not included.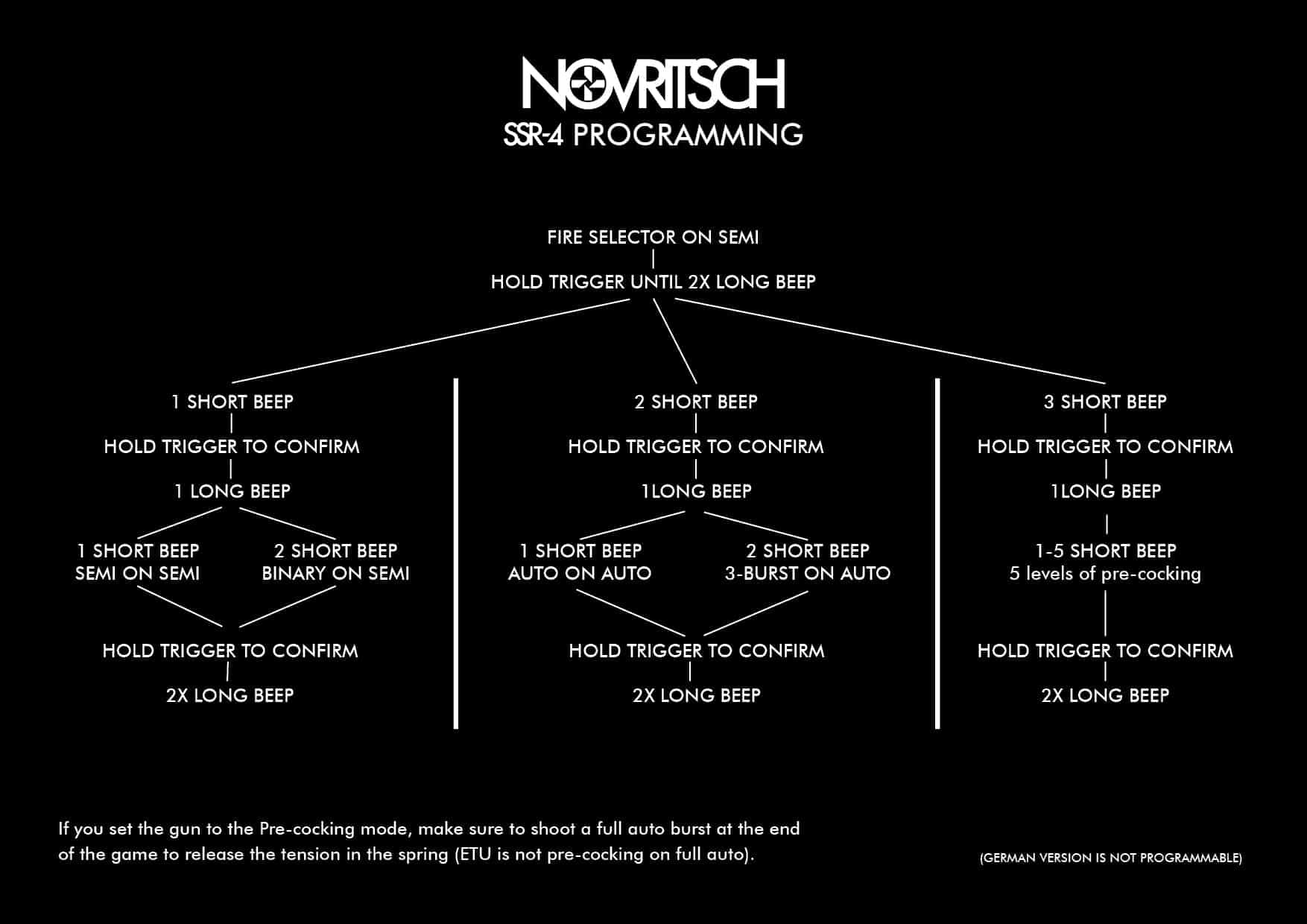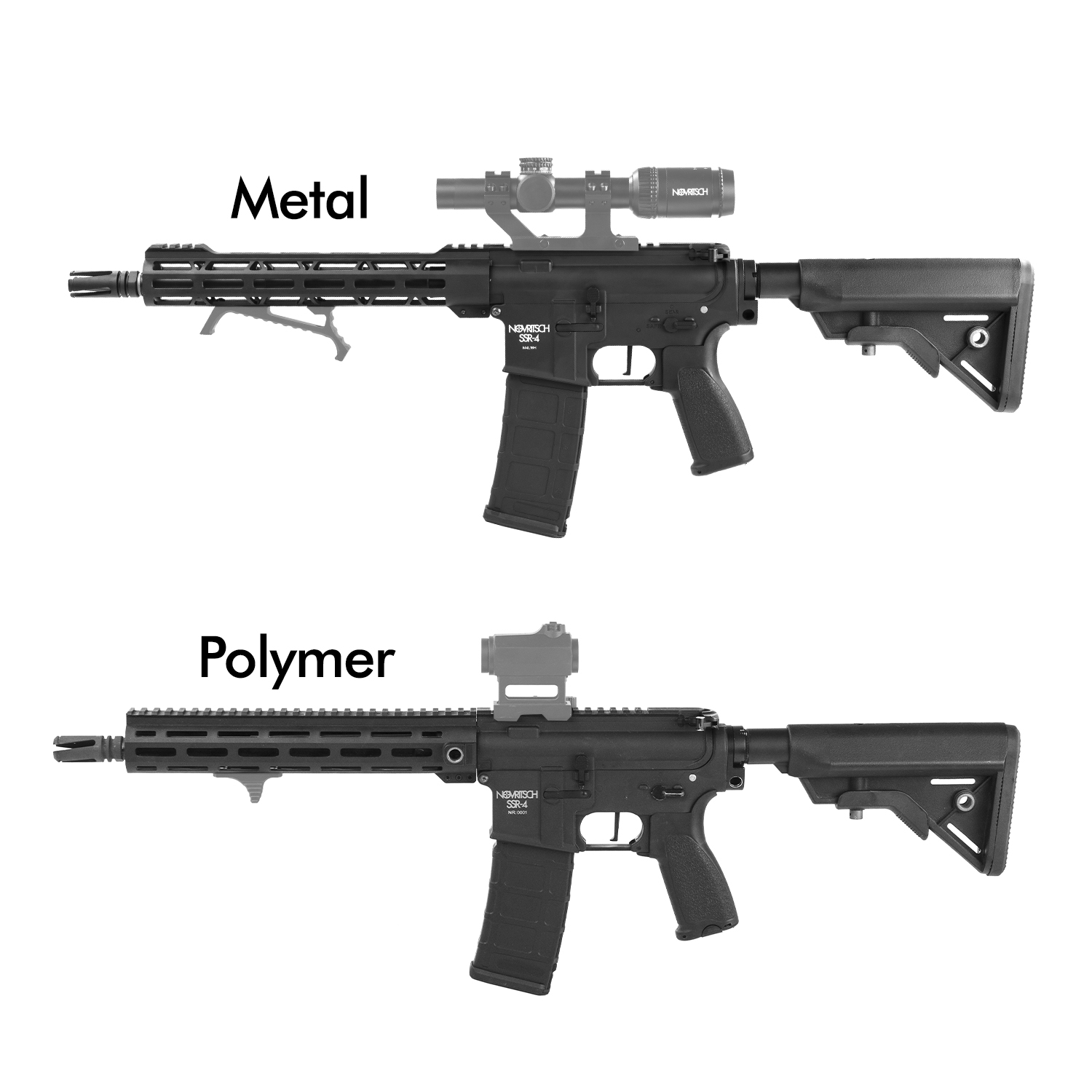 ONE RIFLE - ONE JOURNEY!
The SSR4 was designed to be the first and last rifle you'll ever need. We went beyond a typical entry-level gun, combining utilitarian design language with parts focused on consistent performance over a long time period. Long story short, this airsoft gun will be there for you for a very long time!
MADE FOR EVERYONE, PERFECTED BY PROS
The SSR4 is designed to be super-easy to use. This is the only out-of-the-box solution you'll need. Plug in a battery, load it with BBs and pull the trigger. No advanced teching or maintenance is needed. Just focus on the fun part! Period.
AIRSOFTER'S HEAD START!
If you're starting out, this rifle is just perfect! To give you a unique advantage, we created an extensive video academy not only for using the SSR4 but also for starting out airsoft in general. From convincing yourself and your friends, through finding fields and a community, to advanced airsoft setups and our own tips & tricks. Nothing shall stop you!
LIGHTWEIGHT OR REALISTIC?
Both of the rifles have the exact same, high-quality internals. The metal version is precisely manufactured using airsoft grade aluminum for a realistic firearm feel.
The polymer version utilizes state-of-the-art polymer technology. High-density material reinforced with fiber will feel premium in your hand while being shock resistant to withstand your rough play style.
MODULAR PLATFORM
With the SSR4 you get all the options, allowing for all sorts of accessorized builds. Go simple with just a Red Dot and a grip or go full tacticool with suppressors, flashlights, grips, lasers, different magazines or sighting devices. The sky is the limit.
QUICK SPRING EXCHANGE
Is your SSR4 way too 'hot' for a CQB field? Do you need more power for a woodland area? Just quickly swap the spring on the go. A long screwdriver comes with the gun!
ERGONOMICS FIRST
We focused on improving ergonomics. Besides a modern-looking beavertail Pistol Grip, we added a slick handguard. With the M-LOK system, you can add attachments wherever you like while not interfering with your grip
SKU / Code.
NOVH-SSR4-AEG
Manufacturer / Brand
Novritsch
Airsoft Category
Airsoft Electric Gun ( AEG )
Shooting Mode
Semi / Fully Automatic
Power (Muzzle Velocity)
~ 360 FPS (about)
Power Source
Up to 11.1V 1200mAh Li-Po / 7.4V Recommend
Magazine Capacity
140 Rounds
We found other products you might like!