Subscribe to J.K.ARMY and you will get discounts code at any time.
---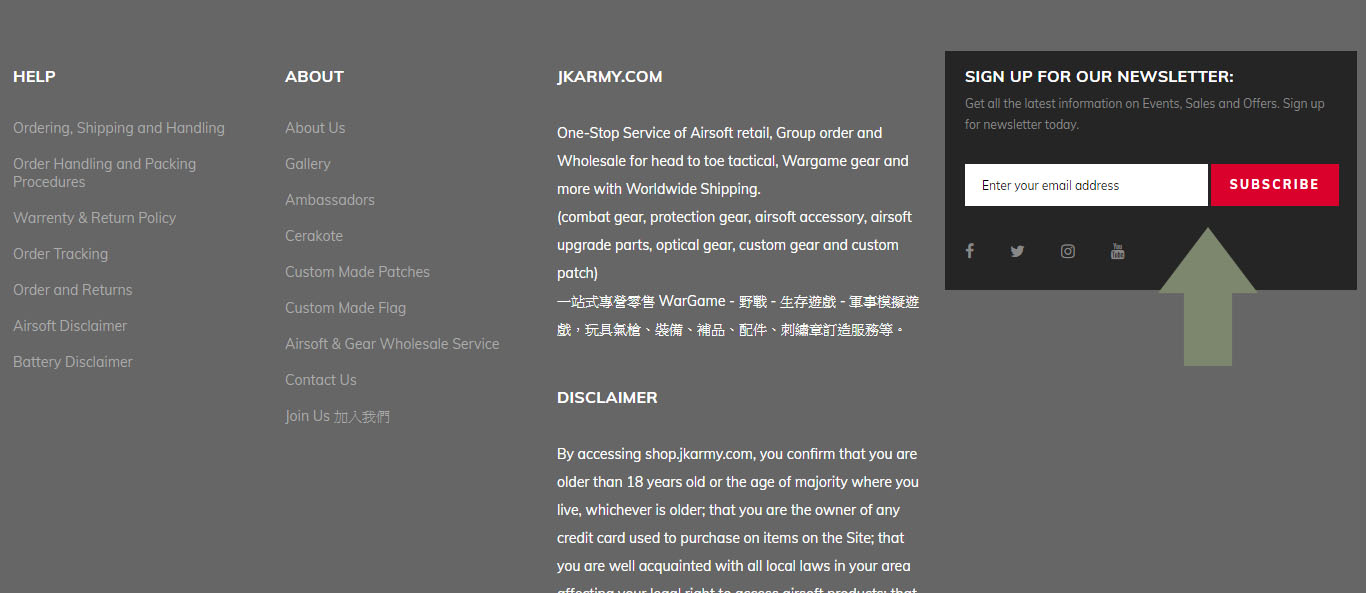 Terms of Use:
- Not include: Free Shipping Item , Special Item and Pre-order.
- Fixed amount discount for whole cart.
- The Company reserves the final right on all Promotions.
---
How to use?
Go to " Shopping Cart " / " My Cart " .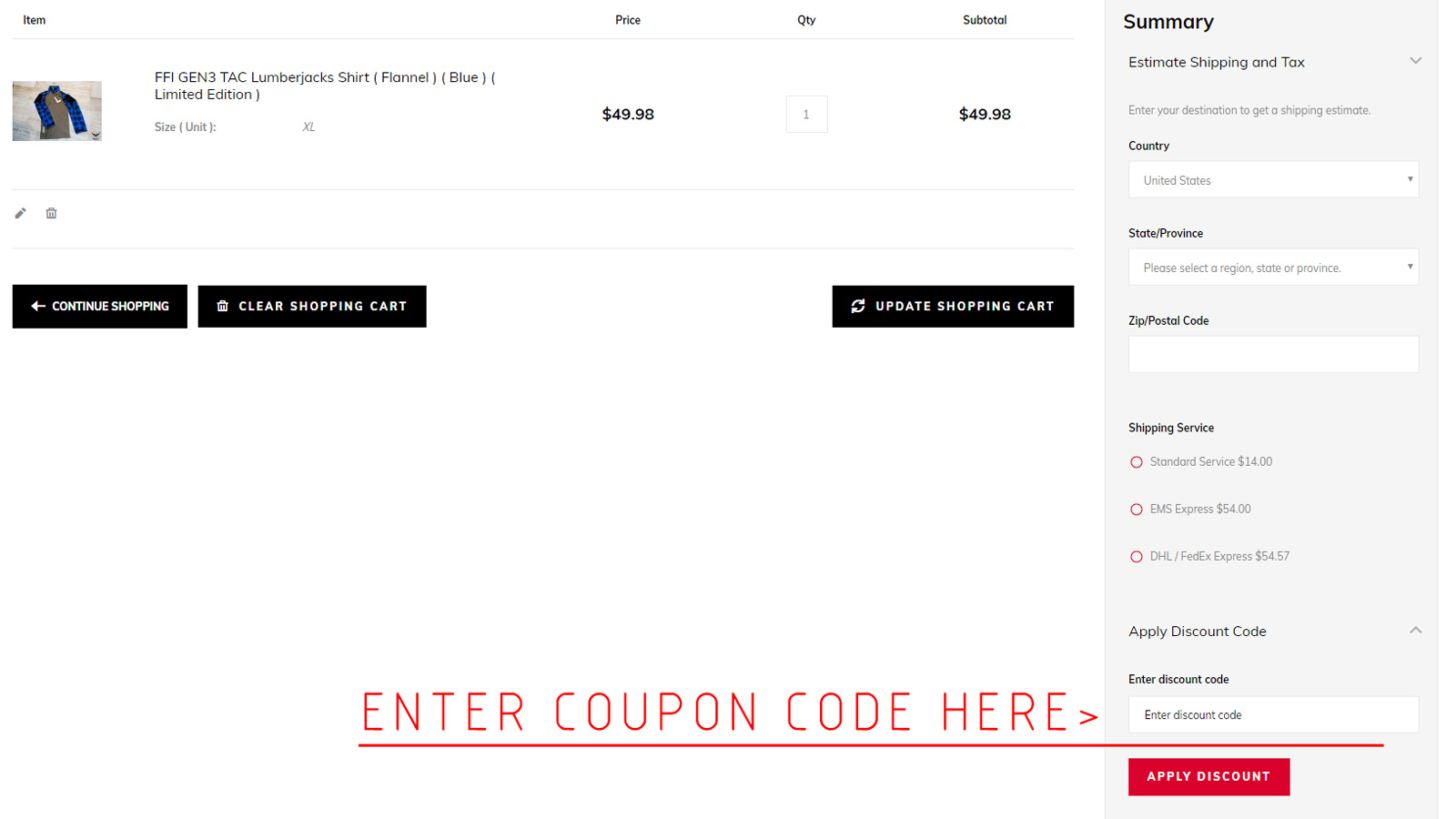 Terms and Conditions for Coupon / Discount Code

- Redemption:
- Enter the coupon code during checkout to activate
- Promo Codes can only be redeemed online.
- You must be 18 years or older to redeem a promo code.
- Void where prohibited by law.
- Only one (1) promo code may be redeemed per user account.
- Promo codes are redeemable on select merchandise only. Airsoft Guns, Discounted Items, and Special Items are ineligible for your specific promo code.
- Items with Minimum Advertised Pricing (MAP) enforced by brand owner are exempt from discount coupons
- Promo codes may require a minimum dollar value purchase.
- Some promo codes are not valid for the product(s) in pre-order status at the time of order or on waitlist reservations.
- Promo codes cannot be used in combination with other discounts, coupons, promotions, shipping specials or other promo codes.
- Even if a code is accepted at check out, all orders are reviewed by the Customer Support team prior to fulfillment. If orders are deemed in violation of any of these Terms and Conditions, they will be adjusted accordingly.
- Promo codes must be reentered at check out in order to be applied to your order. Promo codes can not be applied after order is submitted.
- Once a Promo code has been entered in an account, it cannot be removed or transferred to another account

- Expiration:
- Promo codes are strictly free promotional voucher codes with no monetary value.
- Expiration dates are always displayed day/month/year.
- The code may expire on the specified expiration date, at any time (GMT+8) – regardless of the physical time zone/location of the code holder. (GMT+8) We strongly suggest using your code PRIOR to the expiration date.

- Values:
- Promo code values will not be replaced if your order is canceled by you or J.K.ARMY's or refunded.
- Any promo code amounts in excess of your purchase will be carried over until your purchases exceed the balance on the card or the expiration date is reached.
- Promo codes are not replaceable if lost, stolen or damaged.
- Promo codes cannot be combined with other jkarmy.com discounts, coupons, and promotions.
- Promo codes have no cash value and may not be redeemed for cash. J.K.ARMY's promotional promo codes are free and have no cash value, therefore can have an expiration date.
- You are responsible for the security of your own promo code number. We will not replace any amount from your promo code that has been used by another party regardless of how the promo code number was obtained.
- Promo code value applies only to the product price and does not apply to shipping, sales/VAT taxes or fees.
- Changes to promotion:
J.K.ARMY's reserves the right, without further notice to the holders of the promo codes, to modify the terms and conditions for use of the promo codes, or to suspend or cancel the promo code program in whole or in part.