Availability:
Out of stock
The PTS Unity Tactical Atom™ is specifically designed to be able to mount multiple types of micro red dot optics without the need to modify or mill the slide for each different optic. The ATOM™ comes with front slide serrations, integrated suppressor sights and a red dot adapter dovetail cut. The front slide serrations allow for a better grip on the slide when manipulating it, whether for press-checking, jam clearing, racking to load or unload, or single handed manipulations during less than optimal gripping conditions like when wet, bloody, muddy, etc. The suppressor height iron sights allow you to always maintain an aimed sight picture even when using the pistol with a suppressor or if the red dot malfunctions. The ATOM™ slide is pre-cut with a large dovetail so that, instead of having to mill your slide to be able to mount only one specific red dot, the ATOM™ slide is able to fit any of the available micro red dots with the a variety of available Unity Tactical ATOM™ adaptor plates.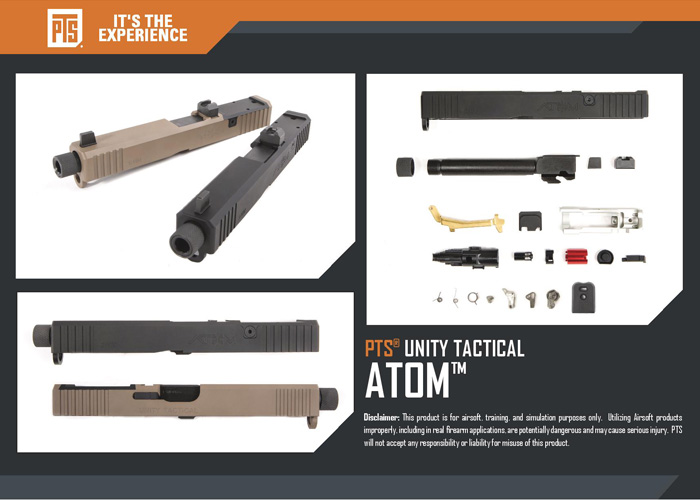 Features:

o Integrated back-up iron sights (BUIS).

o Red Dot Adapter fitted only with RMR style Red Dots

o Slide

o Steel 14mm CW Barrel

o Inner barrel

o Thread protector

o Housing for the TM G17

o Nozzle return spring guide

o Reinforced Nozzle Set

o Piston Head

o Reinforced Trigger Bar

o Steel Zero Hammers Set

o Recoil Spring Guide w/ 120% Spring

o PTS Enhanced Polymer Shockplate™ - G
• Material – 6000 series Aluminum

• Color – Black / Cerakote FDE

• Compatibility – TM G17

• Weight – 282g (with packaging)

• Dimension - 185 x 26 x 42mm (without packaging & incl. BUIS)
Disclaimer: These products are FOR AIRSOFT USE ONLY. They cannot function and are not produced to withstand use on a real firearm. PTS Syndicate Ltd is not liable if our products are inappropriately or inadvertently used on a real firearm.
Major Built Material
Aluminum
Disclaimer
Upgrading airsoft guns require necessary skill & technique, manual modification is necessary, consult expertise if needed.