Availability:
Out of stock
Special Price
USD$435.90
Regular Price
USD$474.36
The highly expandable "M4A1 MWS" with RAS (Rail Adapter System) mounted, corresponding to various optional parts, finally appeared in gas blowback! The dedicated blow back engine contains a cylinder of the largest series, 19 mm in diameter, and an unprecedentedly strong recoil shock occurs. Equipped with a new mechanism for improving durability including Z-system, the pursuit of realism of shape reproduction and texture, and ultimate gas blow back which combines the high accuracy of hit accuracy & performance like Tokyo Marui It is a model.
Tokyo Marui M4A1 MWS Airsoft GBB Pistol ( ZET System ) - Cerakote Coating
- Semi & Fully Automatic Shooting Mode
- Metal Lower & Cerakote Coatings Upper Receiver
- 180mm Metal Picatinny Rail System Handguard
- 355mm Metal Outer Barrel With 45mm Flash Hider (14mm CCW)
- Fixed Metal Front Sight and Flip-up Rear Sight
- Polymer Pistol Grip
- Polymer 6 Position Extendable Buttstock With Metal Stock Pipe
- 35Rounds Loading capacity Gas Metal Magazine
- Full length: 777 mm / 854 mm (maximum stock extension)
- Weight:2,970 g (when empty magazine is installed)
- Package Contents:
M4A1 MWS body, magazine (number of bullets 35), protective cap, adjustment tool, handling instructions / instructions, charger, charging rod, cleaning rod, BB bullet (0.2 g / 100 shots), other
- package size:
Horizontal 860 x length 290 x thickness 100 mm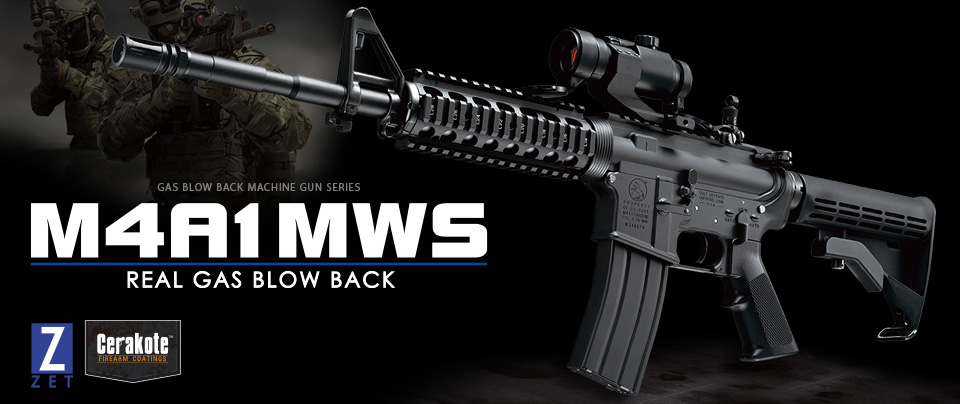 ---
SKU / Code.
TM-M4A1-MWS-GBB-BK
Manufacturer / Brand
Tokyo Marui ( 東京マルイ エアソフトガン ) ( TM )
Airsoft Category
Gas Blow Back ( GBB )
Shooting Mode
Semi / Fully Automatic
Power (Muzzle Velocity)
~ 280.0 FPS (about)
Power Source
134a Gas (HFC134a)
Magazine Capacity
35+1 Rounds
Airsoft Note
All GBB / Pistol are tested before ship out. When we test any guns, tiny scratch cannot be avoided.
We found other products you might like!